Replacing Existing Thatch Tiles
Replacing Existing Thatch Tiles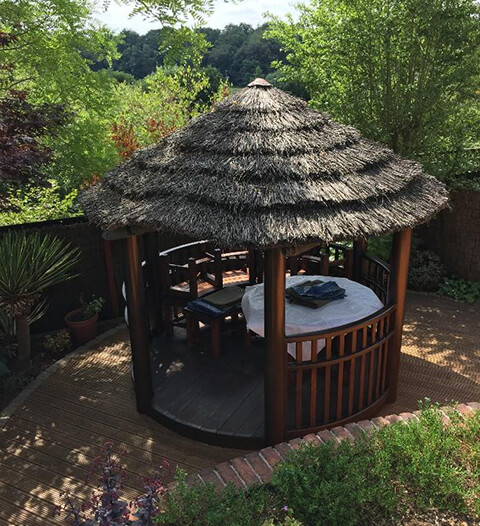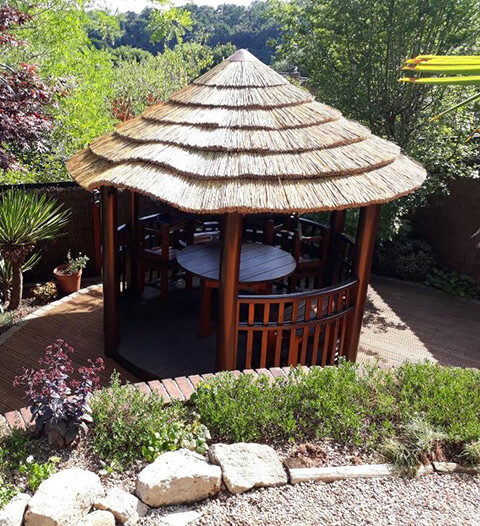 Our thatch tiles are a direct replacement for almost 100% of the thatched gazebos manufactured in the last 30 years.
It is a fairly simple job to unclip the old tiles and clip the new ones on, providing you have safe and easy access.
Your new tiles should have a similar lifespan to your old tiles. You do have the option to change the appearance of the thatch or extend the lifspan. Even if you choose a completely new style of thatch, the new tiles should simply click ON where the old ones clicked OFF. See our range of different styles here.
If you fill in our thatch tile quote with a few simple measurements and email us a photo, we can give you an idea of how many tiles you will need before you strip your old roof.
To strip the old thatch, start with the top cone. This should untie (from the inside of your gazebo), or unscrew (from the outside) if your gazebo is boarded. You will see that the old tiles simply clip around a metal bar or rope, and a swift push up from the end of the tile will remove them. Start at the top and work around each course, then down to the bottom of the roof. We recommend wearing gloves to protect your hands.
Replacing the tiles is simply a matter of repeating the above in reverse order. Fit the tiles on the bottom layer first and work around and up towards the ridge. Position the joints at the back of the roof and use garden secateurs if you need to cut the tiles to finish each course. Top it off with the top cone. Watch our installation video to see what is involved in more detail.